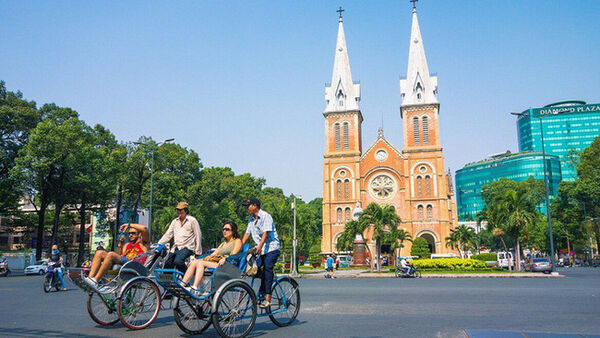 A promotional campaign for Vietnamese tourism is planned in Australia
From May 11-17, a tourism promotional tour for Ho Chi Minh City and Vietnam will be held in Sydney, Melbourne and Brisbane, Australia, according to Nguyen Thi Anh, director of the municipal tourism department.
>> A sharp increase in the number of foreign tourists in Ho Chi Minh City in four months
>> Opening a community tourism village
>> Vietnam and Cambodia will strengthen cooperation in tourism and sports
Specifically, the program will take place at the Jackson Sydney Harbor Luxury Cruise, Sydney on May 12, Crown Promenade Melbourne on May 15, and Brisbane on May 17.
Ho Chi Minh City is attractive to foreign tourists.
Photo: TK/CVN
The aim is to introduce and promote tourism in Vietnam and Ho Chi Minh City to the Australian tourism community, while creating opportunities for exchange and cooperation between tourism companies in the two countries.
To date, the event has received registrations from over 200 representatives from organisations, agencies, tour operators and partners from all over Australia, as well as over 20 representatives from Ho Chi departments, airlines and tour operators, Minh City, Vietnam.
During the event, participants will have the opportunity to experience a variety of activities such as meetings with airlines, travel agencies, hotels in Vietnam – Ho Chi Minh City, cone hat design programs as well as performances of folk musical instruments…
In particular, the organizing committee will provide the latest information on tourism in Vietnam – Ho Chi Minh City, festivals and events in this city in 2023, new tourism products and services, and organize B2B meetings between companies.
According to data from the Ministry of Tourism of Ho Chi Minh City, Australia is one of the important tourism markets for Vietnam and this city. In 2019, Vietnam welcomed 384,000 Australian visitors, compared to about 304,000 in 2015, while Ho Chi Minh City served nearly 300,000 Australian tourists in 2019 and more than 130,000 in 2022, about 3.5% of the total number of visitors. international arrivals to the city. .
Australia is among the top ten markets with the largest number of tourists in Vietnam and Ho Chi Minh City in recent years.
VNA/CVN